Underrated Redskin: Wide Receiver Joshua Morgan
June 7, 2013
---
There has been plenty of talk this off-season about the Redskins receiving corps. Pierre Garcon is obviously the number one, but after that it becomes a bit hazy. Leonard Hankerson has been widely tipped for a break out season as he attempts to claim the starting spot opposite Garcon. He has good speed, and the desired size to be an effective red-zone target. Aldrick Robinson has done well in OTAs according to multiple reports. Another speedster with improving route running skills. If Robinson can learn to run the entire route tree to go along with his deep patterns, then he could be a big yards after the catch threat.
But for me, the forgotten man in all this discussion is Joshua Morgan. Morgan was one of the Redskins free agent signings in 2012 and managed to get over his injury history to win the Z receiver spot. Throughout the season he displayed some valuable talents, particularly to this style of offense. His blocking is up there with any other receiver in the entire NFL. He has a nasty streak to his blocking game that enables him to fight to win a block and maintain that block through the play.  His blocking was a big reason why he played more snaps than Hankerson, with the Redskins offense revolving around the run game.
But one of Morgan's more underrated aspects is his toughness. The Redskins best passing play was without doubt the play-action post. After a while, defenses started to adjust and brought their safeties up to land some big hits. Morgan was lead into some very big hits throughout the season, but he always got back up and went back to the huddle. Here against the Panthers, he took a massive hit from the safety.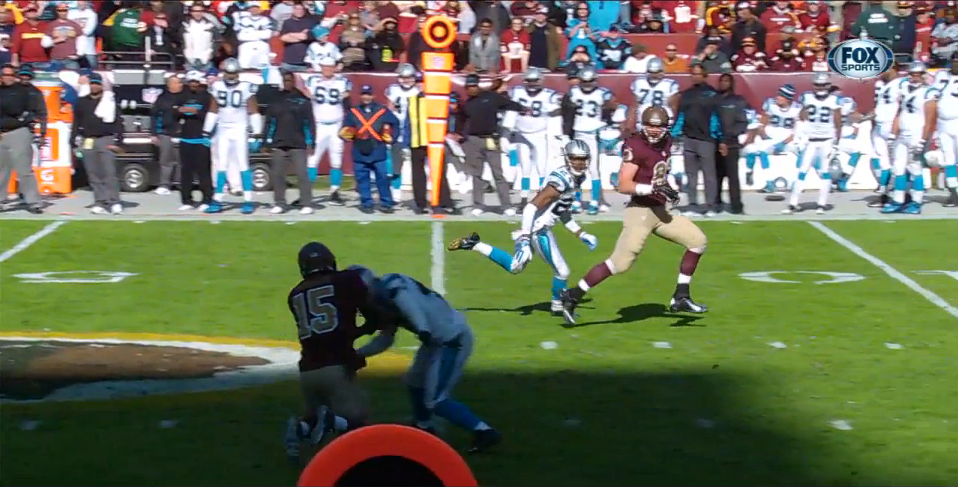 The ball was placed low and in front of Morgan. Morgan is aware of the safety in the area, but still attempts to go make the play.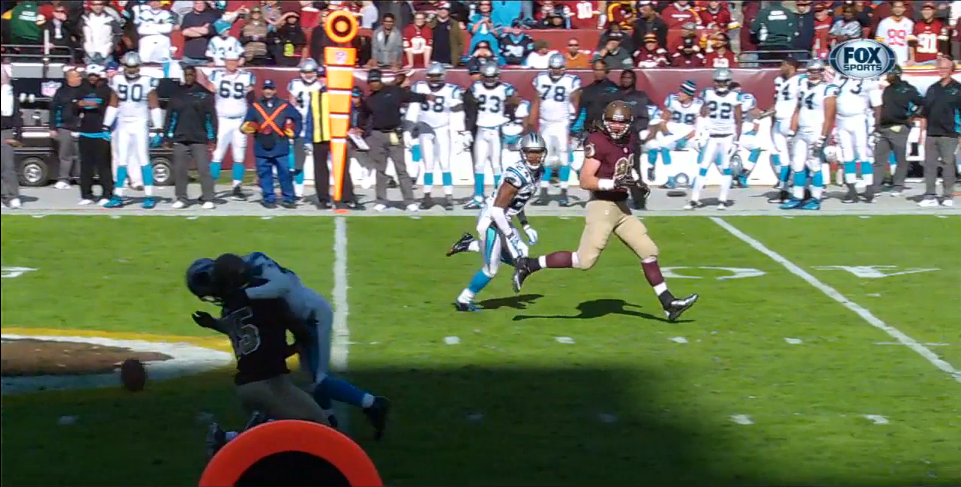 But Morgan ends up with a huge hit to his head and can't hold onto the pass. The refs throw the flag and Morgan draws an unnecessary roughness penalty. But Morgan just got back up, didn't complain and went right back to the huddle ready for the next play. He was lead into many big hits, but never complained about it. That speaks to not only his toughness, but his willing to take one for the team.
Another underrated part of his game is his catching radius. Griffin was able to place the ball anywhere around Morgan and he was able to adjust to it. In the same Panthers game, the Redskins attempted another play-action post.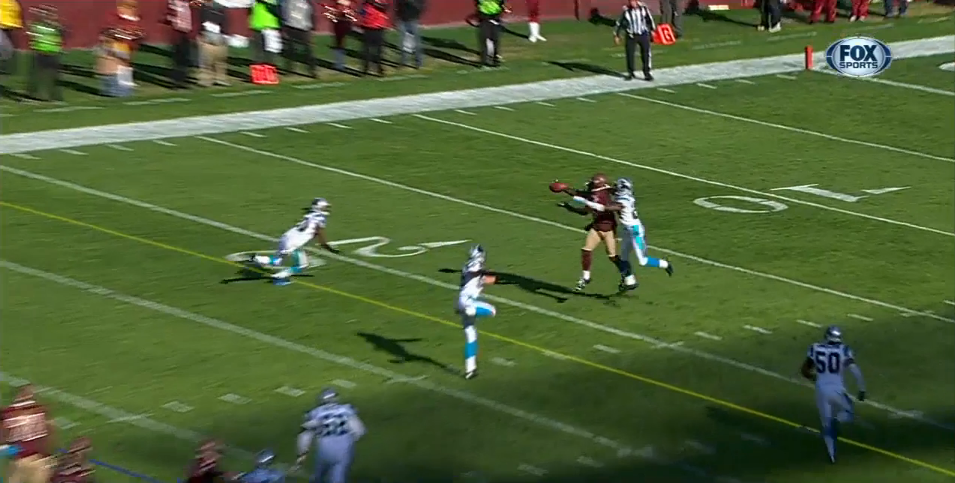 The ball is thrown behind Morgan as the corner attempts to break on it. Morgan is not only able to adjust to the ball, he's able to use his body to shield the corner from the ball. He pulls in the one-handed grab and picks up the first down.
Morgan was also extremely versatile. He lined up at the X, Z, slot, and even in the backfield. They had him blocking backside defenders, taking end-around hand-offs, catching screens as well as obviously running routes. He stepped up once the Redskins realized Brandon Banks wasn't reliable or explosive enough for his role. He was always available and willing to do what the team asked whenever they had to deal with injuries to Pierre Garcon or the loss of Fred Davis. All the while, playing with screws in his ankle and torn ligaments in both hands. This offseason he's recovering from surgery and is expected to be up to full speed come training camp. If he's fully healthy come week one of the regular season, I personally expect him to be starting alongside Garcon.
---
---
---