Reality Hits As Ravens Sign Two Veteran Pass Catchers
August 12, 2013
---
In two Super Bowl appearances, the Baltimore Ravens have scored eight touchdowns in the big game. They have two kickoff returns (Jermaine Lewis & Jacoby Jones), one rushing touchdown (Jamal Lewis), one on an interception (Duane Starks) and four through the air. Anquan Boldin, Jacoby Jones and Dennis Pitta each scored one last February when the Ravens beat the 49ers in Super Bowl XLVII. The fourth –was actually the first ever touchdown the Ravens scored in SB play and the man that was on the receiving end of Trent Dilfer's 38-yard TD pass was signed officially today for his second stint with the team that originally drafted him
The Ravens announced the signing of WR Brandon Stokley, whom they selected in the fourth round (105th overall) of the 1999 NFL Draft.. Eleven years after leaving the team for Indianapolis via free agency, Stokley will return to play the slot receiver position in the Ravens offense. And Ravens fans thought the retirement of Ray Lewis meant the last link to that Super Bowl XXXV team was gone.
Stokley has always been a fan favorite in the Charm City. Ravens fans can, as it if it were yesterday, remember the play that gave Baltimore a 7-0 lead in Super Bowl XXXV. Baltimore QB Trent Dilfer dropped back and spotted Stokley open down the middle of the field—hit him in stride– and then watched, as he dragged Giants safety Jason Seahorn into the end zone to give the Ravens a lead they would never relinquish.
Stokley played four seasons with the Ravens from 1999-2002 and caught 60 passes for 913-yards and seven touchdowns during his stay but it was not until he got to Indianapolis that Stokley's career began to trend upward. The difference in Stokley's game was noticeable from the start in Indy,where Payton Manning and not a scrap heap of Baltimore quarterbacks were throwing passes to the small but reliable and speedy receiver.
With No.18 guiding the Indy offense, Stokley caught 139 passes for 1,916 yards and 15 touchdowns- including the 2004 season when he set career highs for receptions (68), yards (1,077) and touchdowns (10).
From Indy, Stokley moved onto to Denver where he would spend the next three seasons with Jay Cutler until returning to the Rocky Mountains last year to play once again with Peyton Manning. In between stops with the Broncos, Stokley played in just 13 games in two seasons with the Seahawks and Giants where he combined to catch just 31 passes.
Thought to be finished, Stokley's career once again rose from the turf, as he served the role of a poor man's Wes Welker in the Mile High City for Peyton in his first year with Denver.  He managed to haul in 45 passes for 544-yards and four touchdowns, including a 15-yard scoring strike against the Ravens in the AFC Divisional playoff game. The touchdown tied the game at 14 in the second quarter. Stokley was obviously not brought back to Denver when they signed the actual Wes Welker this past offseason.
Not feeling as if Stokley would be enough, the Ravens scooped another of Manning's old favorite targets today when they signed TE Dallas Clark. Shortly after announcing the signing of Stokley, Ravens head coach John Harbaugh stepped up to the podium following practice to proclaim that Clark is "on his way to Baltimore"
Clark, who turned 34-years old in June, spent last season playing for the Tampa Bay Buccaneers where he hauled in 47-passes from QB Josh Freeman for 445-yards and four touchdowns. For his career, the former 2003 first round pick (24th overall) of the Colts from Iowa brings 474 career receptions for 5,322 yards and exactly 50 touchdowns during his 10-year career.
Clark's career year occurred in 2009, when he was voted All-Pro and made his only Pro-Bowl team. He had 100 receptions for 1,109 yards and 10-touchdowns. Like his quarterback in Indy, Clark battled injuries for the final two seasons with the Colts playing in just 17 games. He was fully healthy last season and played in all 16 games for just the second time in his career and the first time since his All-Pro season in 2009.
Stokley, who also celebrated a birthday in June, turned 37, has also been injury plagued at times. He has played in 16-games just three times in 14 years but did manage to play in 15-games last season.
WHAT DO THE SIGNINGS MEAN?
Signing both Dallas Clark and Brandon Stokley in less than 24-hours is essentially the Ravens admitting what they have on the roster isn't going to cut it, which wasn't the thought process just three weeks ago at the wide receiver position. If you got anything out of watching the Ravens preseason opener, a win versus the Buccaneers on Thursday, you saw how desperate the situation at the receiving position is for Baltimore.
With the assumption of health, the Ravens were content to enter the season with Torrey Smith and Jacoby Jones at WR and Dennis Pitta and Ed Dickson playing TE. The Ravens were willing to let training camp determine who was going to be the third WR.
Those hopes and dreams were dashed quickly. On just day two of camp, Pitta was lost for the season with a hip injury  To compound the problem, Dickson is out with a slight tear of his hamstring, which Harbaugh is calling week-to-week. Then there was Thursday's game.
Ravens quarterbacks targeted 16 different receivers 34 times during the contest. The longest was a 24-yard completion to an undrafted tight end from Maryland. Then, the one receiver that many considered to be in the lead for the No.3 receiving  spot was hurt during the teams win. Deonte Thompson, who is entering his second year as an undrafted WR from Florida is suffering from an injured left ankle and was wearing a walking boot after the game in Tampa.
Jacoby Jones, the man the Ravens are absolutely counting on to be a solid No.2 receiver does not look like he could be a slot man on a lot of the offenses in the league that possess a potent passing attack right now. He entered camp fresh off a stint on Dancing with the Stars, where he asserted himself well but he's not focused on football at the moment. He failed his conditioning test the first try and although Jones is one of those freakish athletically gifted individuals, and blew through the test on day two, he does not always apply those talents on the field. He looked bad on Thursday night. He dropped a pass in his hands, jogged on a comeback route and failed to wage a ball battle, which all led to Flacco throwing an interception
The Ravens thought that Jones would have matured following his success in the Super Bowl where he could have easily been the game's MVP but instead, he's back to the head scratching ways that caused the Houston Texans to decide that he was never going to be a reliable No.2 and allowed him to come to Baltimore.
Another area of concern is one that Ravens fans may not be willing to admit but know is a fine line between success and failure in 2013 in the Raves offense. While Torrey Smith is amongst a handful of third year wideouts who could emerge as big time NFL receivers this season, how many honestly believe Smith will actually reach that level. Smith is a good wide receiver but he' not great. He may become great but he has a lot of work ahead of him. To Smith's credit, he is willing to put forth that effort and has sown tremendous improvement in his game. As of this date, Smith may not be a No.1 on a quarter of the teams in the league. He is a top notch No.2 for sure but definitely not a No.1 on at least eight to 10—maybe 13 teams. He would likely be a slot receiver in Atlanta behind Roddy White and Julio Jones..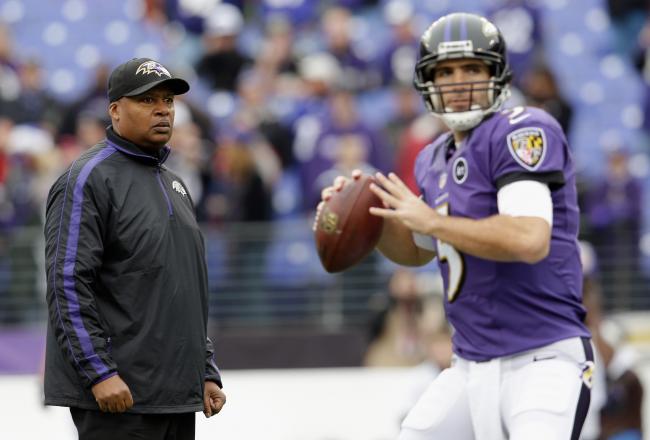 This season with Jim Caldwell calling the plays,  the hope was that the Ravens could move from a two back set to a one back- two tight end set, similar to what the Patriots run. However, Caldwell would likely opt to set up a few more running plays with Ray Rice at his disposal. I'm not saying the Ravens were going to be a run heavy team, I am saying the Ravens were going to run more than the Pats did using this formation. That was made clear when the Ravens cut Vonta Leach. They drafted H-back Kyle "Juice" Juszczyk, whom the Ravens envision as a hybrid type of fullback—one that could be more versatile than Leach. Late last week, Leach was re-signed and many began to shift the thought process back to the two backset we've grown accustomed to during the Harbaugh / Cam Cameron days.
Not so fast Ravens fans—offensive coordinator Jim Caldwell is committed to making sure Flacco becomes the efficient big time passer his contract says he has to be now. The team is experimenting and it may all just come together during training camp.
Aside from today's signings, the Ravens have also brought in 10-year veteran Visanthe Shiancoe to help ease the loss of Pitta. However, the former Vikings TE appeared extremely slow and uninspired in Thursday's win. Save for a nice catch that help get the Ravens down close to the goal line, Shiancoe looks like he may not make the team if that undrafted TE from Maryland can make the squad–and by all accounts from Thursday's game—he's got a shot.
"First & Ten " as he was known in College Park, TE Matt Furstenburg has a promising future but how much should an undrafted tight end be counted on to produce?  If he could make the team and haul in more than 15 to 20 passes this season it would have to be considered a success. Furstenburg would not be a bad project if Boldin, Smith, Jones, Pitta and Dickson were your primary five but that is not the case in 2013.
The rest of the young receivers have the same questions. Deonte Thompson Aaron Mellette, Tandon Doss, Marlon Brown and Tommy Streeter, all lack the consistency and above average NFL, skill set the Ravens need at the position. Mellette made a nice veteran looking touchdown grab and probably has the most upside of any young receiver in camp but again—how much can you count on a rookie drafted in the later rounds. Give the Ravens credit, they waited as long as they possibly could and allowed for as much time as they could in waiting to see if someone—anyone could step up. Thompson as stated earlier was the leader in the clubhouse before he got hurt but how and when he returns is a big question mark
This may have been a big reason why the Ravens, who signed only Shiancoe to help fill the Pitta void but nobody else, decided today was the day to sign not one but two proven NFL pass catchers in one day. The Ravens knew trading Anquan Boldin was a tremendous roll of the dice but losing Pitta has the Ravens desperate, especially after Thursday's preseason opener, in which no one has clearly stepped up.
The numbers prove the Ravens knew they were in bigger trouble than they care to admit when Pitta went down. According to the Baltimore Sports Report, Pitta was being set up to fill his role in the offense, a strong, third-down, possession receiver, which he was last year, but even more so. Last season, Pitta was targeted 113 times in 21 games, the third most behind Boldin (148 targets) and Torrey Smith (135 targets), respectively. Pitta caught 75 of those targets, a 66.4 catch percentage, which was second among Ravens' receivers with at least 40 targets, behind Ray Rice (97 targets, 69 catches, 71.1%), but ahead of Boldin (87 catches, 58.8%), Smith (60 catches, 44.4%), Jacoby Jones (67 targets, 35 targets, 52%), and Ed Dickson (41 targets, 27 receptions, 65.9%). With Boldin gone and Pitta injured, that leaves Dickson, Jones, Deonte Thompson, and other receivers to pick up the slack.
According to ESPN Stats & Info, Pitta was a vital part of the Ravens' third-down success last season. On third down with Pitta on the field, the Ravens averaged more than twice as many yards per play as they did with him off the field. Baltimore was also sacked less often, and all seven of their third-down passing touchdowns came with Pitta on the field. When Pitta was on the field, he was Joe Flacco's go-to guy in the red zone. Over the last two seasons (including the playoffs), Pitta had a team-high 10 red zone touchdowns. Second on that list were Torrey Smith and Anquan Boldin, with seven.
Pitta, if nothing else, has been extremely dependable when the ball comes his way. He has dropped just three passes over the last two seasons. Among tight ends who have been targeted at least 100 times since 2011, the only tight end with fewer drops is Anthony Fasano with one. What the Ravens are hoping they can accomplish with the signing of Stokley and Clark is simple. They are somehow hoping to get close to what they projected Pitta to do this season. By my calculations, the Ravens were reasonable to expect 900 yards and possibly nine to 10 touchdowns from the former BYU standout before he was hurt.
Stokley led the NFL last season in lining up in the slot 94 percent of his snaps (minimum 350). He will do the same in Baltimore and will be able to draw attention down the seam, as Pitta did on third down. In addition, as Pitta did for the Ravens, Stokley should also be able to find the soft spots in the coverage and settle in to be a viable target when Flacco needs him.
At 6-feet 4-inches, Clark is likely to be look more like Dennis Pitta to Joe Flacco than Brandon Stokley is. Clark should also be able to help the Ravens ease the pain of losing Pitta. His hands were amongst the best of any type of receiver in the game during a four-year stretch.
THE CALDWELL CONNECTION: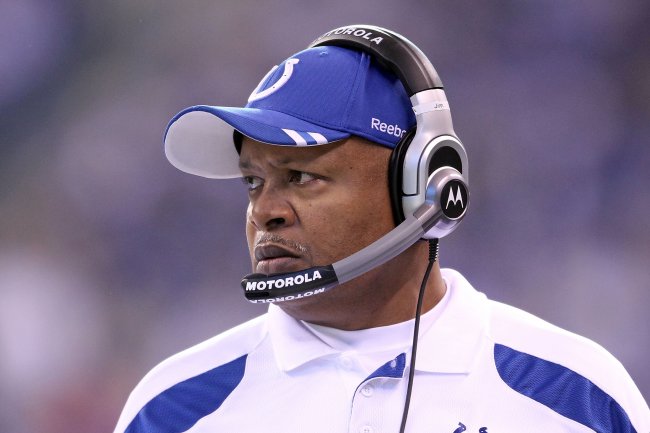 If anyone knows how to use Stokley and Clark the right way in the Ravens offense–, it is offensive coordinator Jim Caldwell. Caldwell was Assistant Head Coach and Quarterbacks coach in Indy from 2002 through 2008 and took over for Tony Dungy as head coach in 2009 when Dungy moved to the Sunday Night Football NBC studio. Caldwell was Payton Manning's position coach when No.18 won three of his four MVP awards and was firmly attached to Manning's hip when Stokley and Clark combined to catch 566 passes for 7,238 and 61 touchdowns during their careers with the Colts. Caldwell was also a major part of the Colts offense when both enjoyed their career years with Indy.
This could be significant in helping to cut down on the time each need to get used to the system and their new QB. As he did with Manning, Caldwell spent the first year and half in Baltimore as Flacco's QB coach and has developed a solid and trusting relationship with the Ravens sixth year signal caller.
In fact, under Caldwell, Flacco was better than Manning-like during the Ravens playoff run, as he completed 73 of 126 passes for 1,140 yards, 11 TDs and 0 INTs to produce a 117.2-passer rating. The SB MVP joined Hall of Fame QB Joe Montana (1989) as the only players to produce 11 TDs and 0 INTs during an NFL postseason. Under Caldwell during his final six games of 2012, including playoffs and dating back to Dec 23 of the regular season, Flacco was 102-of-170 for 1,483 yards, 13 TDs and 0 INTs, producing a 113.9 passer rating.
Clark and Stokley are used to seeing numbers similar to what Flacco closed out last season with. They watched one of the all-time greats do it year in and year out while catching passes for him in Indy. They also expect to see Caldwell's offense put up gaudy numbers, which he proved this unit could do when asked last season. Under the direction of Caldwell, who was elevated to offensive coordinator prior to the Ravens' Dec. 16, 2012 game vs. Denver, Baltimore averaged 400.6 yards of offense per contest (146.4 rushing and 254.1 passing) and 27.3 points per game.
Caldwell will likely look to get about 60 combined catches and about 800 yards from the Ravens two new pass catchers this season. Even if the two vets can combine to give Baltimore 75 percent (675 yards, 7 TD's) of what they thought Pitta could provide, they would probably be very happy. If they get more, it is a bonus but considering the dire circumstances of the current situation with the champions—Anything less could prove to be detrimental in helping the team reach the playoffs for an NFL high sixth straight season.
The Ravens may not be done looking for pass catchers, as many decent options are still available or could be cut in the coming weeks. The team may also still have a diamond in the rough in Aaron Mellette, Deonte Thompson or Mister First and Ten but fans have to feel better with Stokley and Clark in the fold even if they are not what they used to be.
---
---
---