Week Eleven Observations
November 20, 2012
---
The Baltimore Ravens snuck out of Pittsburgh with a 13-10 win, despite not scoring an offensive touchdown and they are now 8-2 which puts them as the number 2 seed in the AFC and gives them a 2 game lead in the division.
Joe Flacco
The most important thing that comes from this game for Flacco, is he didn't turn the ball over.  This is always important in close games like this. The Steelers turned it over twice and the Ravens turned that into 6 points which was the difference in this game.  This game brought back memories, for me, of older Ravens teams where the QB was a game manager and just had to not lose the game.  The offense didn't score a touchdown but they still won because of the defense and special teams.  Flacco finished 20-of-32 for 164 yards with a QBR of 38.9 and a passer rating of 75.5.  As stated above though, the Ravens will be fine with this as they did enough to win the game, and in a league with no style points, this is all that matters.
Ray Rice
As I predicted here, the Ravens didn't have success with the run game.  Rice saw very few holes to run through and as a result only finished with 40 yards on 20 carries with a long of 8 yards.  The biggest contribution from Rice this game was his receiving.  He had a total of 5 catches for 53 yards on 5 targets and had a long of 31 yards.  On one key 3rd and 6, he caught a pass a few yards short of the first down but spun around right after catching it.  This move dropped Steelers LB Larry Foote to the ground allowing Rice to get the first.
Jacoby Jones
Each game this signing looks better and better.  Jones now leads the NFL with 3 return TDs now this year.  Yesterday, he had his first punt return for a TD which went for 63 yards.  The key block on this return was by backup S Sean Considine.  This return was very, very important because it was the Ravens only TD of the game.  It gave the Ravens their first lead of the game with 3:16 left in the first quarter and they never looked back.  On the offensive side, he had 2 catches for 1 yard with a long of 4 yards and was targeted 4 times.  The Ravens offense didn't get many yards his offensive output shouldn't be a concern, however his touchdown dance is a whole different conversation.
Anquan Boldin
As usual, when the Ravens win, Boldin got first downs and was very close on many other occasions.  In total, he had 3 of his 8 catches for first downs.  On one of these first downs there was a holding penalty called on the CB covering him and on another he was able to spin away from 2 Steelers to get the extra yards need for the first down on a 3rd and 10.  Boldin was close to getting other first downs because the Ravens threw to him many times on first down for between 6 and 9 yards.  This then setup 2nd and 3rd and short opportunities.  Boldin definitely benefited from the Steelers putting CB Ike Taylor on Torrey Smith and them bracketing him with S Ryan Clark on many occasions.  Boldin finished with 8 catches for 79 yards on 12 targets and had a long of 23 yards.
Offensive Line
Overall, the offensive line did a decent job as they only allowed 2 sacks for 11 yards against a very strong Steelers defensive front.  However, they weren't able to open up any run lanes for RB Ray Rice.  Jah Reid started at LG for Bobbie Williams who was inactive with an injury.  Don't be surprised if Reid keeps the starting job for the rest of the season.  He did have a false start last night but that was his only major mistake.  Left tackle Michael Oher allowed a sack on 3rd and 2 with 2 minutes left in the game.  However, Flacco gave up at the end of this play which was for the better as the it allowed another 40 seconds to run off the clock.  If Flacco threw it away, the clock would have stopped, giving the Steelers much more time to mount a comeback.  Lastly, RT Kelechi Osemele gave up a sack on 3rd and 8 on the first play of the 4th quarter.
Paul Kruger
This makes back-to-back great games to Kruger, who is in his contract year.  On three straight Steelers drives he got a hit on Steelers QB Byron Leftwich.  The first was a sack on 3rd and 10, the next possession, also 3rd and 10, had Kruger hit Leftwich's arm as he threw the ball, causing it to fall incomplete.  The third time, he got pressure on Leftwich and hit him just after he threw the ball. All of his pressure came against rookie RT Mike Adams.  He also got good pressure on DE Haloti Ngata's sack.  On the final play of the game, Kruger batted a lateral to the ground which OLB Courtney Upshaw recovered to end the game.  The only negative from Kruger's game was he missed an easy sack on Leftwich on a key 3rd and 8.  Somehow, the Steelers didn't even block Kruger on the play but Leftwich was able to escape and completed a pass for the first down.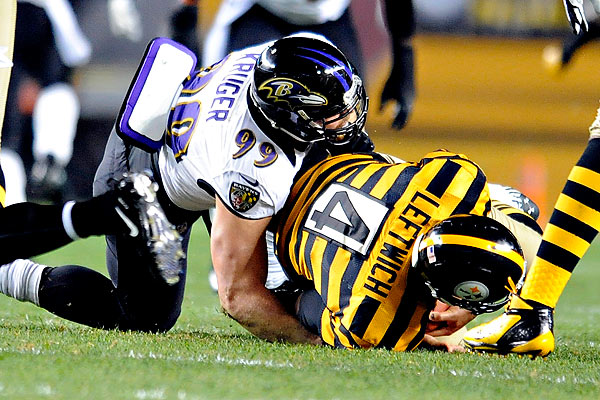 Terrell Suggs
It came as no surprise when Suggs introduced himself as Hacksaw from Ball So Hard University.  He is known for doing unique introductions for Sunday and Monday Night Football.  Last year, he announced himself as Sizzle from Ball So Hard University.  It turns out that "Hacksaw" has a special meaning to Suggs.  He posted on his Twitter account that "Hacksaw" was a nickname for his uncle who passed away in February and Suggs wanted to pay tribute to him.  Game wise, Suggs didn't do much though.  The Steelers were able to contain his pass rush but Kruger was able to pick up the slack.  He was able to get pressure on Ngata's sack but, so did many others.  His best play was when he blew up a run by himself.  The Steelers pulled a G to try an block Suggs but he had other ideas.  Suggs dove right at the knees of the blocker which quickly took down the lineman and also caused the RB to fall down.
Bernard Pollard
On Leftwich's TD run, Pollard missed a very easy tackle which let Leftwich go for the TD.  Like Graham, he also had a big hit to breakup a pass with 20 seconds left.  This big hit injured the receiver, Jerricho Cotchery which contributed to Cotchery dropping it after the hit.  Pollard finished with 5 tackles with 1 for a loss and 1 pass breakup and was very important in stopping the Steelers run game.
James Ihedigbo
Ihedigbo made probably the most important play of his whole season with his sack of Leftwich on 3rd and 11 with 4 minutes left.  The hit visibly hurt Leftwich, and now it looks like Leftwich will be out next week.  Other than the sack, Ihedigbo made some nice special teams tackles as well. He finished with 2 tackles and the one sack.
Cornerbacks
Cary Williams had a pretty uneventful night as the Steelers targeted other DBs.  However, on the first play of the game the Steelers went deep on him and drew a 42 yard pass interference call on WIlliams.  He also broke up 1 pass when it hit him in the back.  Earlier this week, the Ravens signed veteran CB Chris Johnson and already the signing is worth it.  He forced a fumble after allowing WR Mike Wallace to get a catch.  Ed Reed then picked the ball up and returned it for a few yards.  Other than this play he wasn't on the field very much.  The biggest night for a CB goes to Corey Graham.  The Steelers tried to pick on him all night with mixed results.  Based on my count, they targeted him on 11 passes.  Of these, he only gave up 5 catches for 79 yards.  One of these catches was for 37 yards on a 3rd and 2.  Graham was able to make up for this as a few plays later, he intercepted Leftwich with a nice catch on 3rd and 8.  When the Steelers got inside the 10 yardline late in the 3rd quarter they tried two passes against Graham and both failed.  The first Graham was able to breakup and the second Graham had good enough coverage to cause Wallace to catch the ball out-of-bounds.  With 28 seconds left in the game, he had a big hit on a receiver to breakup a deep pass which was near midfield.  Overall, Graham was very impressive as coming into the season he was only known as a special teamer.
---
---
---