Week Eleven What To Look For
November 17, 2012
---
This week the 7-2 Baltimore Ravens travel to Pittsburgh to face the 6-3 Pittsburgh Steelers in a key divisional game on NBC's Sunday Night Football.
1.  Ravens Cornerbacks      
This week the Ravens will start Cary Williams and Corey Graham against the Steelers.  At the beginning of the season, Williams was the number 2 CB and Graham was the 4th and mainly a special teamer.  The nickel back will be Chykie Brown, who was 5th on the depth chart.  Just this week, the new number 2 corner, due to injuries, Jimmy Smith, had surgery for a sports hernia and will be out for a while.  Due to this, the Ravens went out and signed veteran Chris Johnson.  This should provide some depth but, it is unknown when he will be ready to play as he didn't even attend a training camp this summer.  Last week, against the Raiders, the secondary gave up 368 passing yards and Corey Graham played decently.  If he can play the same this week against Byron Leftwich and the Steelers, I am sure the Ravens will be happy.  Expect the Steelers to come after him early and often.  The same goes for Brown in the slot.
2.  Joe Flacco
According to ESPN's Jamison Hensley, Flacco has played surprisingly good in Pittsburgh.  The last two times they played in Pittsburgh, Flacco has thrown a game winning TD pass with under 1 minute left in the game.  This year has been different for Flacco though as he has been so inconsistent.  At home he is averaging 322.4 passing yards per game and on the road he has averaged 179.75 yards.  For his career, he has averaged 196.7 pass yards at Heinz Field, but the last time they played he had 300 pass yards.  This week he will go up against the number one pass defense in the league.  The Steelers are allowing 171.1 yards per game.  They also rank 5th in the NFL in rush defense, allowing 94.6 yards per game.  The game plan going into Pittsburgh has to be passing the ball though.  The Steelers have always been weak in the secondary, relying on their front seven to get pressure and this year is no different.  If the Ravens can stop the Steelers pass rush, Flacco could have a field day. However, the receivers will have to get separation which has been a problem so far this year and the offense will have to be on the same page due to the noise.  I'm not saying abandon the run, but if they Ravens want to beat the Steelers, they will probably have to do it in the air, not on the ground.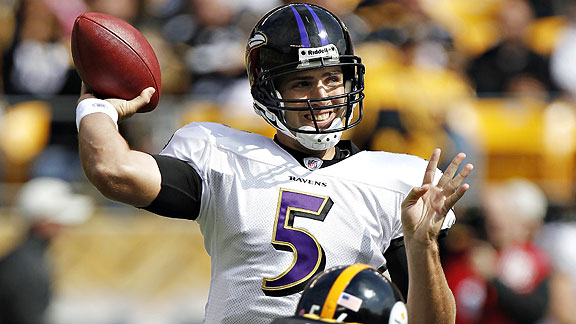 3.  Tight Ends
This applies to both teams as whenever their TEs are playing well, the offense is doing good.  The Steelers have veteran Heath Miller who has 43 catches for 431 yards and 6 TDs.  The Ravens have a combo of Dennis Pitta and Ed Dickson who have combined for 49 catches for 520 yards and 3 TDs.  Both Pitta and Dickson are key targets on third downs and get many first downs.  Pitta has quickly become one of Flacco's favorite targets because of his great hands.  The Steelers and Ravens like to target their TEs in the redzone to exploit the size mismatches.  For the Ravens on defense they will have to stop Miller as he will likely be a safety blanket for QB Byron Leftwich who will start for the injured Ben Roethlisberger.  On offense for the Ravens expect Pitta to have 5 or more catches with at least 3 for first downs.
4.  Terrell Suggs
Over his career, the Steelers have become one of Suggs's favorite teams to play, and definitely his favorite to hate.  In last years week one matchup, he had 3 sacks and 2 forced fumbles and the second time they played he had an INT.  While Suggs has played in the last three games, he hasn't looked himself after coming back from a torn achilles tendon.  He could use this to show the world that he is back and just as good as before.  He will be helped by Roethlisberger's injury as he is the hardest QB to take down.  Leftwich is more of a pocket passer so it will be easier to get after him.  The Steelers offensive line ranks tied for 13th in the NFL having given up 19 sacks.  Over the last few games they have played very well giving Suggs a tough matchup.  Suggs always shows up for big games so expect at least one impact play from him on Sunday night.  I will predict 1 sack with a forced fumble.
Prediction:  Ravens 23 Steelers 17
---
---
---