Week Ten What To Look For
November 10, 2012
---
1.  Ravens Luck Out
Earlier today, it was announced that the Oakland Raiders top two RBs, Darren McFadden and Mike Goodson, are out.  This leaves the Raiders with FB Marcel Reece and RB Taiwan Jones who have a total of 2 attempts for 2 yards this year.  This puts the Ravens at a huge advantage on defense for two reasons.  One is they won't have to face McFadden.  McFadden has a career average of 4.34 yards per rush and is always a threat to run all over a team with his speed.  The Ravens have given up 139.5 yards per game which ranks 28th in the NFL.  The second advantage this gives the Ravens is they can focus on the Raiders pass game more than before. This is important because the Raiders average 281 pass yards per game which ranks 6th in the NFL.  The Ravens should play both Ed Reed and Bernard Pollard deep to dare the Raiders to run and to help CBs Jimmy Smith and Cary Williams with the Raiders speedy receivers.
2.  Ray Rice
Ray Rice has to be excited for this matchup.  Last week, the Raiders gave up 251 rushing yards to Tampa Bay Buccaneers RB Doug Martin. Martin also had 4 TDs and only 25 carries.  Coming out of Boise State this offseason, Martin was compared by a lot of analysts to Ray Rice. This makes the matchup for Rice a very good one.  Another to note about the Raiders run defense is before last week they were allowing 3.89 yards per rush, which would have ranked 7th best in the NFL.  Now they rank 27th, allowing 4.6 yards per rush.  On a different note with Rice, he is 1 yard away from 5,000 career rush yards and he is 14 receiving yards away from 2,500 for his career.  Expect the Ravens to give Rice the ball on the first play of the game.  This isn't just to get him a stat, there should be a heavy dose of Rice again this week, along with backup Bernard Pierce.  Also, expect Rice to reach both career milestones.
3.  Offensive Line
Something has to give in this matchup.  The Raiders are tied for  30th in the NFL in sacks with 11.  The Ravens offensive line is tied for 19th, allowing 19 sacks.  Yes, there are lots of teams worse than the Ravens on the line, but there are even more that are better.  The line has been inconsistent all year long.  One thing that has probably hurt the line is uncertainty.  There has been some movement along the line, mainly at LG where 3 different people have played.  Everyone is playing for a spot next season except GR Marshal Yanda who was named to Peter King's midseason All-Pro Team.  Back to the game, the Raiders top defensive lineman, Richard Seymour is out with knee and hamstring injuries.  This will help the interior lineman open up holes for Rice.
4.  Pass Rush
The Oakland Raiders rank tied for 6th in the NFL allowing 14 sacks.  The Ravens are tied for 26th with 13 sacks.  This matchup will be key to stopping the Raiders offense.  Since the Raiders run game will be hindered, they will have to pass most of the time.  The Raiders are very good at this and it starts at the line.  Anytime you can give your QB time to drop back, he will find someone who is open.  In order to stop this, the Ravens need to get pressure on Raiders QB Carson Palmer.  The problem is, that the Ravens have been awful at rushing the passer this year. Their top interior rusher, DT Haloti Ngata, has multiple injuries that are holding his play back.  Top outside pass rusher, OLB Terrell Suggs, will be playing in his 3rd game this season after coming back from a torn achilles tendon.  The Ravens don't need to get sacks if they can get pressure. This happened last week against the Browns.  Expect a mix of blitzes and fake blitzes to get pressure on Palmer.  Also expect the Ravens to get two sacks, one from Suggs and one from ILB Dannell Ellerbe.
Prediction:  Ravens 31 Raiders 13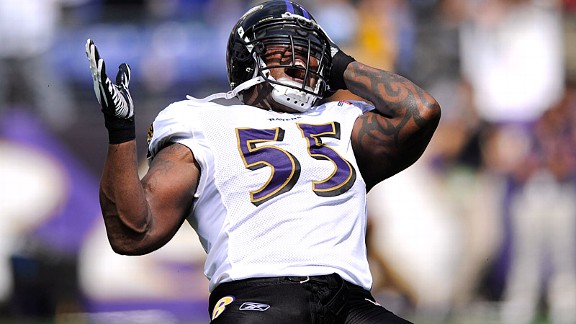 ---
---
---