Week Nine Observations
November 6, 2012
---
The Ravens squeaked out a win against Cleveland 25-15 in a game that had many positives and just as many negatives.
Joe Flacco
At the beginning of the game Flacco played excellent. He completed his first 10 passes.  On the first drive of the game, Flacco led the Ravens to their first opening drive TD of the season.  That drive wasn't all running game either, as he went 4-of-4 for 36 yards.  Flacco also threw the go ahead TD pass with 4:26 left in the game.  Flacco audibled very well, he did this on the 2-point conversion and Cam Cameron praised his audibles to run plays. That was the good Flacco.  The bad Flacco had two interceptions dropped and after completing his first 10 passes, went 1-of-9 on his next attempts.  He also couldn't lead the offense to do much in the 2nd and 3rd quarters.  In the end, Flacco went 15-of-24 for 153 yards and 1 TD.
Ray Rice
As always, when Rice gets over 15 carries the Ravens win.  They have now won 34 of 39 games (.871 winning percentage) when this occurs. The Ravens also are 20-2 when Rice scores a rushing touchdown like he did yesterday.  Rice had a season high 25 carries for 98 yards and 1 TD.  He also had 2 catches for 6 yards.  The Ravens definitely tried to get Rice more involved in the offense this week as even when the run wasn't working in the middle of the game they kept going and in the end the where some big holes at the end of the game like there were at the beginning.
Bernard Pierce
When the Ravens drafted Pierce this year in the 3rd round, some people, including me, questioned the move.  Now it is looking great as Pierce is improving each game as Rice's backup, allowing Rice to be fresher for the all important 4th quarter.  Yesterday, Pierce had 7 rushes for 26 yards and his first career TD on a nice 12 yard run.  This occurred on a 3rd and 1 where the Ravens faked a FB dive to Vonta Leach and pitched it out to Pierce.  This was setup by a play earlier on the drive where they did the same thing but gave it to Leach.  Pierce also had a nice 9 yard run negated by an illegal formation penalty.  The only negative from the game comes from a personal foul where he kicked a Browns player while trying to get up from a pile.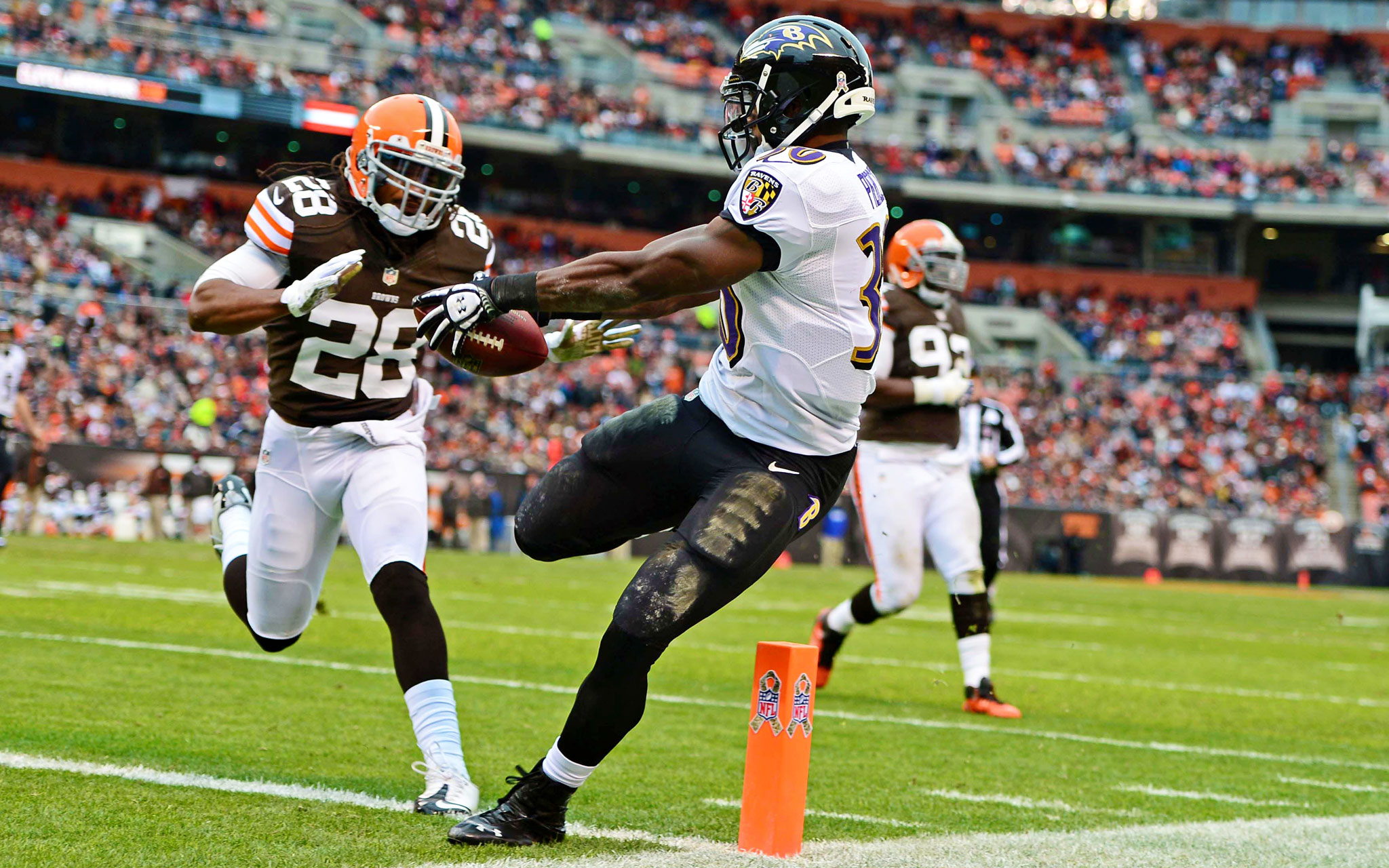 Offensive Line
On the first few drives, there were big holes for the backs to run through.  Soon after there wasn't any until the last drive of the game. Two individual notes go to LT Michael Oher and RT Kelechi Osemele.  Oher had a holding call while Osemele gave up the only sack for the line.  The start at LG went to veteran Bobbie Williams, despite reports that Jah Reid could start.  Reid still made it in as an extra blocker in run situations.
Anquan Boldin
All 5 of Boldin's catches came for first downs.  This is exactly what the Ravens need from Boldin.  He needs to be the possession receiver in the middle of the field for Flacco.  Three of his catches came on the first drive where he helped lead the march down for an early touchdown.  In all, Boldin had 5 catches for 57 yards on 5 targets.  He also caught a wide open two-point conversion.  Lastly, Boldin had a great block on Pierce's TD run.  As the receiver on the side of the pitch he had to take the CB on by himself and was able to seal the outside for the TD.
Torrey Smith
The two catches that really stood out for Smith were his go ahead TD and an about 20 yard back shoulder pass. On the back shoulder pass, he went up against the Browns star CB Joe Haden and jumped over him for the catch.  The touchdown was on a key 3rd and 10, deep in Cleveland territory.  He was again matched up against Haden and just ran a quick slant.  After he caught the ball he spun to the sideline and scored.  Smith finished with 4 catches for 46 yards, and 1 TD on 9 targets.
Defense
Just a quick note on the defense here.  They played the perfect bend but don't break style, allowing 290 yards and only allowing the Browns fields goals in all 5 of their red zone trips.  They also got pressure on Weeden but only had 1 sack to show for this.
Dannell Ellerbe
There are big expectations for Ellerbe as he has to replace future Hall-of-Famer Ray Lewis in the starting lineup.  So far he has done a great job. Yesterday, he led the Ravens with 9 tackles with 1 for a loss, 1 sack, and 3 QB hits.  He was all over the field stopping the run and making sure the Browns wouldn't get extra yards.  He also had a key pressure late in the game which forced QB Brandon Weeden to throw the ball way.  It was 3rd and 11 near midfield, and Ellerbe blitzed right up the middle and was in the backfield right away.  The only negative was he was called for a helmet-to-helmet hit, which was a 15 yard penalty.
Cary Williams
Overall, it was a good game from Cary Williams.  He allowed 3 catches for a total of 57 yards.  He also his 4th INT in 5 games, where he dove and caught a Weeden pass.  He then ran 15 yards backwards while making his way to the other side of the field.  In the end he gained 26 yards on the INT and showed great field awareness by going across field.  Along with his INT, Williams had 6 tackles and one pass deflection.
Jimmy Smith
This was another up and down game for Smith, but overall it is positive.  He gave up 4 catches for 38 yards.  Two of these were for 2 yards.  The other two were for 24 and 10 yards.  This is a positive as he held his receivers to an average of 9.5 yards on 4 receptions.  I can guarantee the Ravens would be love to have this from Smith each week.  A negative from the game comes from a silly, 6 yard, pass interference penalty. There are still growing pains but he keeps making some good plays.
Ed Reed
Reed has seemed to play his best against the Browns in his careers and this game was no different.  He could have had 3 INTs but had to settle for 1.  The first one he just plain and simply dropped.  He came just a fraction of a second late on the the second one.  A few years ago, Reed probably would have had it and taken it back for six.  Reed finally got his INT on his 3rd try.  He took advantage of a bad throw by Weeden on a deep ball.  Reed didn't just play great in the pass game this week.  He made a nice play to stop a toss.  He came flying in a took out the two of the leading blockers down low.  This caused RB Trent Richardson to fall down.  As usual there were some problems with tackling, but the Ravens have grown to tolerate this.
Remember to mark your calendars for Winter Season of Sports Trivia Nights at Plug Ugly's in Baltimore (Canton) Starting Monday, November 12 @ 7 p.m. before MNF!  Every Monday for 6 Weeks!  Great specials, fun sports trivia, prizes and more!
---
---
---