Week Seven What to Look For
October 20, 2012
---
1.  Stopping J.J. Watt
So far this year, Texans DE J.J. Watt has been unstoppable.  He leads the NFL with 9.5 sacks which is an impressive for a good pass rushers but Watt has played in 6 games and plays DE in a 3-4 defense which isn't known for producing pass rushing defensive lineman.  Even more impressive is Watt is the only defensive lineman in the top 35 for pass deflections.  Watt has a total of 8 which places him tied for 8th.  In two games against the Ravens last year, Watt had 15 tackles and 2.5 sacks (all of the sacks came in the playoff game).  The Ravens probably won't be able to completely stop Watt, but they must be able to slow him down and keep him in check.  This can be achieved by constant double teams and leaving RBs into block.  Ravens QB Joe Flacco must see where Watt has lined up on each play so he can help call out the blocking scheme on him and so Flacco knows where Watt is to try and avoid throwing right over him.
2.  Run Game
This will be an important part of the game for both teams on offense.  The Texans love to run the ball and then do play action passes off of this. The Ravens have an insane winning percentage when RB Ray Rice gets over 100 total yards and over 20 touches.  He has also been the only consistent player for the Ravens offense this year.  Houston is 6th in the NFL with 134.2 rushing yards per game while the Ravens rank 14th with 112.3 yards per game.  On defense the Texans rank 7th allowing 87.7 rush yards per game and the Ravens rank 26th giving up 136.5 yards per game.  The Texans clearly have the advantage when they are on offense, especially when you consider the Ravens have given up back to back 200 yard rush games.  The Ravens have also lost their top ILB in Ray Lewis last week.  The Texans have a slight advantage on the other side of the ball also.  However, if the Ravens keep running the ball the gains that were 2 or 3 yards will become 5 or 6 yards and then Rice could break off a big run.  Whichever team wins this battle, will win the game tomorrow.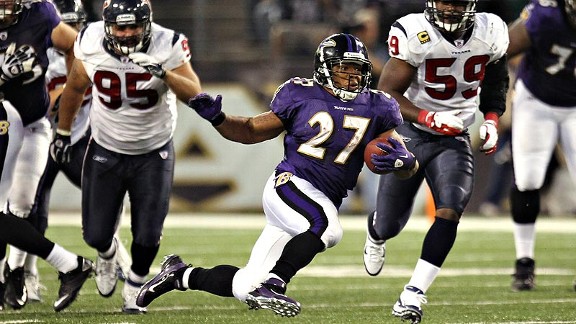 3.  Replacing Ray Lewis and Lardarius Webb
Last week the Baltimore Ravens lost two of their top defensive players for the season.  Lewis is the heart and soul of the defense, and even at his old age was still an impact player at LB.  He will be replaced in the starting lineup by Dannell Ellerbe.  Brendon Ayanbadejo and Albert McClellan will also provide support to Jameel McClain who is the other starter.  Ellerbe has really impressed in the last few weeks, even playing more than starting LB McClain.  Last year the Ravens played a few games without Lewis and the defense still played great.  Replacing Lardarius Webb will be much harder as he hasn't given up a TD in almost 2 years.  Webb is the Ravens top cover corner and is also the best blitzing and tackling corner on the Ravens roster.  Second year man Jimmy Smith will replace Webb in the lineup and in situations where extra CBs are needed, Corey Graham and Chykie Brown will come in.  Expect the Texans to try and attack the Ravens secondary this week.
4.  The Return of Terrell Suggs
It is finally time for the return of the defending Defensive Player of the Year.  Suggs had torn his achilles during the offseason and has been saying he will return earlier than everyone said he would.  His return couldn't have come at a better time because of the injuries to Lewis and Webb.  If I was the Ravens coach I wouldn't let Suggs return for this game.  It has been a little less than 6 months since Suggs had his surgery. The average return time of NFL players for this injury is 11 months.  In my opinion having a healthy Suggs for the playoff run is much more important than having him for one game in October and risking him re-injure it.  I would have waited because the Ravens have a bye next week allowing Suggs more practice time and another 2 weeks to get healthy.  However, I haven't been an practices and I don't know how he has been playing.  Either way, Suggs should be seeing a limited role tomorrow, mainly as a pass rushing specialist.
---
---
---