Week Two Observations
September 18, 2012
---
The Ravens suffered a close defeat to the Philadelphia Eagles 24-23 on Sunday.  This makes 3 straight years that the Ravens have won their opener but lost the next game.  Their next game is on Sunday Night Football, home against the New England Patriots.
Offensive Play Calling
In my opinion the play calling in this game wasn't very good, and that is putting it nicely.  In the 2nd half the Ravens had 5 situations where it was 3rd or 4th down with 1 or 2 yards to go.  Every time this occurred they passed the ball, despite RB Ray Rice averaging about 6 yards per carry. To make matters worse QB Joe Flacco wasn't playing well at all in the 2nd half.  If your QB is struggling and your RB is running well you keep feeding the RB.  This is just another example of Cam Cameron's play calling which has been frustrating Ravens fans since he was hired in 2008.
Defensive Play Calling
The Eagles offense was able to march up and down the field on the Ravens defense which is supposed to be a top defense.  The Eagles compiled a total of 486 total yards.  This breakdowns to 357 passing yards and 129 rushing yards.  The Ravens defense is known as aggressive with lots of blitzing but in the 2nd half there was little of this.  They mainly rushed 4 people and dropped the rest back in zones.  This would be ok if star pass rusher Terrell Suggs was healthy, but he isn't so blitzes must be run in order to get pressure on the QB.  This play calling was very similar to Greg Mattison's from a few years ago when the defense wasn't as successful.  To be successful this defense needs to blitz and cause pressure on the passer allowing the LBs and DBs to make key plays.
John Harbaugh
For some reason Harbaugh challenged a play that had no chance of being overturned.  The only possible explanation of this is he was trying to take advantage of the bad officiating of the replacement officials (see below).  Other than this, he needs to tell Cam Cameron to run the ball. Harbaugh is the head coach so he has to see what is going on and tell his coordinators what adjustments to make.  Lastly, it is really funny watching him argue with the officials with the way he looks while yelling.
Officiating
If I had to use one word to describe the officiating in this game it would be horrible.  Right from the start the referees had no control over the game with multiple brawls starting.  Usually, to control this a player will be ejected to restore order.  This never happened, the officials just kept calling offsetting personal fouls.  That is just the tip of the iceberg.  In the 2nd half there was two, two minute warnings due to the referees messing up the game clock.  After most penalties and challenges there was a delay over where the ball was to be placed.  Penalty wise, they missed calls on both teams.  The most important call of the game was an offensive pass interference on Ravens WR Jacoby Jones.  He had just caught what appeared to be a touchdown which would give the Ravens a solid, late lead.  On the play, Eagles CB Nnamdi Asomugha was making contact with Jones all the way down the field and Jones was making little contact.  If this wasn't called the Ravens would have won because on this drive the Ravens had to settle for a field goal instead of a TD.  The final score would have been 27-24.  In summary, the NFL needs to reach an agreement with the regular officials to end their lockout.
Joe Flacco
This was a tale of two halves as Flacco played well in the first half but looked awful in the second.  He had a chance to shake the inconsistent label but did nothing to silence the doubters in the second half.  His accuracy, deep and short, was all over the place.  For most of the second half he just looked to Ray Rice and Dennis Pitta, even if they were triple covered, like Pitta was on Flacco's interception.  Flacco needs to bounce back strong against the Patriots as he will have to play well for the Ravens to win.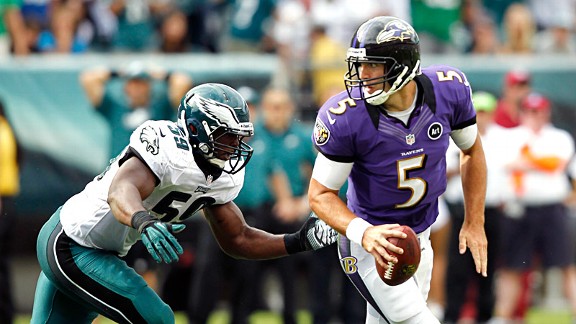 Ray Rice
As usual, Rice played great but the Ravens didn't fed him the ball enough.  He had 16 carries for 99 yards and 6 catches for 53 yards.  In the clutch you are supposed to give the ball to your best players but the Ravens didn't do that.  An easy way to figure out if the Ravens will win a game is look at Rice's touches and what he does with them.  A total of 16 carries in a close game isn't enough to win.
Courtney Upshaw
In his first start of his career, Upshaw played very well and will be pushing for more playing time now.  Overall, he had 6 tackles but that doesn't tell the whole tale.  On the Eagles first drive, he got pressure on Michael Vick causing Vick to scramble and then throw an interception.  Upshaw also forced pressure on other plays as well.
Jacoby Jones
Jones has looked like a completely different player so far this year than he did last year.  He had one catch for 21 yards which was a TD.  What makes this even more impressive is he did it against one of the best CBs in the NFL, Nnamdi Asomugha.  Jones completely burned him for the TD.  As discussed above, he should have had another TD on Asomugha but it was called back due to a questionable pass interference call.
Cary Williams
Against the Eagles, Williams was all talk and no game.  He was constantly arguing with Eagles WR DeSean Jackson.  Williams didn't finish with a pass deflection and gave up a very, very bad touchdown.  He let Jeremy Maclin run right past and into the end zone with nobody within 15 yards.  It wouldn't be surprising to see Jimmy Smith starting at CB next week against the Patriots.
Justin Tucker
Tucker was flawless on Sunday.  He made all 3 of the field goals he attempted.  They weren't your normal kicks either, as they were from 56, 51, and 48 yards.  He was also perfect on extra points and all of his kickoffs were good.  Tucker played like a seasoned veteran, not an undrafted rookie.
Bernard Pollard
Pollard didn't play long due to injury, but he did make a big impact.  On the first drive off the game he had an interception in the end zone to end the Eagles drive.  Later, he had a big hit on Eagle TE Brent Celek.  Pollard had 4 tackles, 1 sack, 1 INT, and 1 pass deflection.  When he went out of the game with a rib contusion, the Ravens defense was never they same.  This game really showed his importance to the defense.
---
---
---