Regular Season Week Two: What To Look For
September 15, 2012
---
After starting the season with a resounding win on Monday Night Football the Ravens travel to Philadelphia to face the 1-0 Eagles.
1.  Eagles Wide Receivers vs the Ravens Secondary
The Eagles two starting WRs, Jeremy Maclin and DeSean Jackson, are both questionable but are expected to play.  If they do play it will be a good matchup to watch the Ravens talented, young CBs.  Since, the WRs will be hampered a little by injuries the Ravens will have a small advantage.  Expect the Eagles to run many deep routes off play action and many quick passes to take advantage of the speed their WRs have.
2.  The Starting Quarterbacks
The Eagles Michael Vick and the Ravens Joe Flacco had polar opposite games in week one.  Vick look horrible throwing 4 INTs and had at least one more dropped.  Flacco had a great game throwing for just under 300 yards and 2 TDs.  He also ran the Ravens new hurry up offense to perfection.  Vick will need a good game to silence his doubters for now while Flacco will need to play just like last week to keep his doubters away and prove week one wasn't a fluke.
3.  Eagles RB LeSean McCoy vs Ravens LB Ray Lewis
This will determine whether the Eagles will be able to run well or if they will have to rely on their passing game.  Last week McCoy had 110 yard rushing on 20 carries plus 6 catches for 26 yards.  Lewis is the Ravens main run stuffer on the inside and will need to prevent McCoy from getting to the second level.  Since the Ravens run a lot of zone defense Lewis won't be matched up McCoy one on one.  This plays to the Ravens advantage as Lewis could get burned by McCoy in one on one coverage and if Vick sees this he will need to take advantage of it.
4.  Ravens Offensive Line vs Eagles Defensive Line
Last week the Ravens displayed a new look offensive line and for the most part it was good.  Now they face the dominant Eagles line.  The Eagles had 2 sacks last week against the Browns which was less than expected.  The main battle will be on the outside with rookie RT Kelechi Osemele facing veterans Trent Cole and Jason Babin.  Expect the Ravens to line up with TEs on the right side to help out.  They also could have the RBs run chip blocks on the ends which can be very effective if done correctly.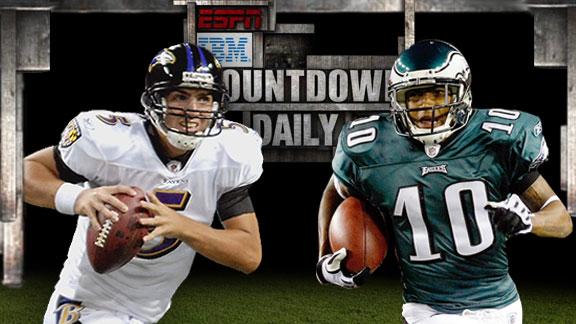 ---
---
---